Exquisite Buying guide for Desktop Computers & Workstations you Need to Know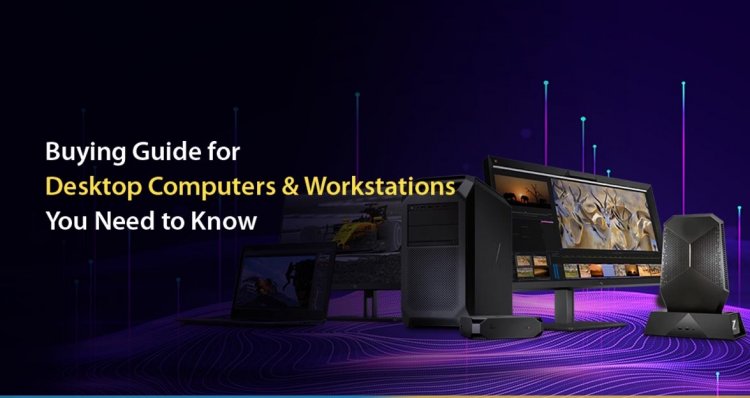 Desktop computers and workstations are not dead in any way. Smartphones have indeed replaced PCs for various tasks. When it comes to routine stuff, nothing can replace desktop PCs. You should be sure of what to buy, and then all is set. If, however, you already know the type of desktop and need powerful buying suggestions, keep reading.
When you are planning to buy a desktop computer, chances are your friends must have told you, "Just build it." There is a reason behind building your desktop PC; it is always cheaper than buying one directly from the manufacturer.
So, you need to get your hands dirty and make a study on components to consider. Don't panic; we are here to help you to make this buying journey easier and more interesting for you. It is an absolute desktop computer buying guide for beginners. People having a little IT background can understand it quickly. Otherwise you have to invest extra time and get the right things in your bag indeed.
Components to Consider: What all you'll need?
Well, the purchase is not complete if you are not sure of the actual components to consider. Here is a list of components that you will need when building a desktop computer.

Motherboard
The motherboard connects to everything and also dictates the configuration of other components, you may use. You have to make sure that the motherboard has all the necessary features like Bluetooth, Wi-Fi, etc. The USB port is another important fact to consider here. AMD motherboards generally support slower USB versions, not Thunderbolt 3.
In the end, focus on the size of the motherboard. It is available in three sizes, ATX, micro-ATX, and ITX. For the first build, choose ATX with a larger case, and it will give you the maximum flexibility for expansion.
CPU
Intel and AMD are the two popular choices for CPUs. Intel is the best choice to achieve the performance with high-level configurations while AMD is good for the pocket. Intel provides an excellent gaming interface, and AMD is better in handling multi-threading.
RAM
RAM is again an important component in our desktop, but it is easy to pick. 16GM is good in almost all cases who need a decent performance. If you want to go crazy then try 32GB RAM. Don't overthink here, but go for the best deal that suits your budget.
Graphics Card
If you need a higher frame rate for 3D design work, then choose a graphic card with better performance and high-level configurations. Also, if you love games, you again need a robust graphic card with excellent feedback.
Hard Drive
Here, you have to check your storage requirements. ASUS can be a good choice for different kinds of storage. For optimum storage space, there is no need to research much. If you need some extra storage space, then you have to put a little more effort into researching the best hard drive option for your PC.
Power Supply
This part handles all your electricity needs and makes sure that you can draw enough energy when running different power configurations. For a tiny build, even an ATX unit is enough.
Cooling Fans
The objective of cooling fans is transferring heat from the CPU. A decent cooling fan from Thermaltake usually goes well. If you need something extraordinary, then get one with LED lights.
Peripherals and Accessories
In this category, you have to choose things like keyboard, mouse, speakers, or headphones, etc. you have to spend some extra cash here and get pretty cool accessories to maximize the performance of your desktop PC even more.
Absolute Desktop Buying Tips for Beginners

Check for the Warranty
Mostly all desktop computers & workstations come with a 3-year warranty but the period may vary between manufacturers. In the event of a failure, you need a quick backup and get it running again with minimum hassle.
For minor repairs, you will be guided over phones otherwise one technical person will come to your place to fix the problem. So, when buying a desktop computer, look for the serviceability and it fits your expectations or not.
Once you are satisfied, move on to the next step i.e. custom manufacturer.
Custom Manufacturer or OEMs
The biggest question asked is whether you should buy from a manufacturer or OEM supplier. OEM components are tested regressively and easy to repair. At the same time, a few custom manufacturers are using budget PC Components. This is the reason most people prefer buying from OEMs, not from the manufacturers.
Check for the Performance
Whatever components you choose to build your desktop, make sure that they are working perfectly. For example, if you are using a sick graphics card then you will experience a slower frame rate that will not work for 3D design work at all. So, would you like to spend hours optimizing your BIM models, every time you bring them into VR? Obviously, not. You should buy a high-performance graphics card here as per your requirements.
Know your bottlenecks
You should know where you have to go high and where you can compromise to make informed decisions on desktop purchases. If you are more into designing work then you need a powerful GPU and a high-frequency CPU. Once you know where to stand out, it is easy to design a budget and buying component as you need.
Operating Systems
Without an operating system, a desktop Pc is merely a waste. It is a framework that connects hardware parts and software apps together. Three popular choices here is MAC, WINDOWS, and LINUX. You can pick anyone that suits your requirements the most.
Windows
It is designed by Microsoft and the most popular operating system available so far. Windows come in different editions, and you can choose anyone you like the most. Microsoft keeps releasing new versions from time to time. So, we cannot suggest any specific, but you can go with the latest version.
MAC
Another popular operating system for desktops is Macintosh. It is considered the best environment for app development and building software components. When it comes to safety and privacy, MAC OS is just amazing. However, you have to follow the strict guidelines of Apple when working on this operating system. Prices are a little higher for MAC OS, but lifespan and performance are quite satisfactory.
LINUX
It is an open-source operating system and highly effective for those interested in running servers or mainframe systems. One of the most popular versions of the LINUX operating system is Ubuntu. The beauty of this operating system is that you can pick any version from wide shared distributions and decide for yourself which suits you the best.
Choose what fits your requirements & Budget!
Technology is not constant, so keep updated yourself with the latest releases to build a smarter Desktop PC with the right amount of power. You can see a variety of flavors while buying desktop computers, so you need a little push in determining the right piece for you that fits your requirements and budget completely.
Make a list of components you need, operating system, and focus on tips for buying workstations as discussed. It will make things easier and more satisfactory. Once everything is handy, you are good to go!